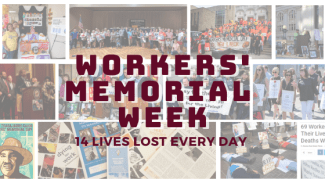 During Workers' Memorial Week we remember those who lost their lives, were injured, or suffered illnesses at work and renew our commitment to fight for safe workplaces.  This is a week of action planned around Workers' Memorial Day, which is commemorated on April 28th each year.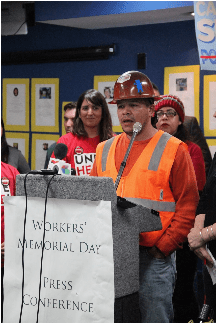 HOW TO PARTICIPATE
We invite you to organize an action or event to commemorate fallen workers and build awareness to promote healthy and safe workplaces.
We will update our event page when plans start getting finalized.
Got an event planned? Let us know!
NEED IDEAS FOR AN ACTION? HERE ARE SOME TO GET YOU STARTED…
Large or small, actions raise public awareness that workplace injuries, illness and fatalities are NOT accidents - they are senseless, preventable tragedies. We encourage everyone who cares about worker safety and health to participate however they can. Some ideas for actions include:
In-person event ideas:
Make a Workers' Memorial Week banner, and hold/hang it where it can be widely seen;
Display posters with the faces and/or names of workers who died from work-related injuries/illnesses or injured/sick workers;
Prepare an altar dedicated to workers killed at work;
Physically distanced die-in in a park or other outdoor open area;
Installation with caskets / boots / scrubs / flowers or other representing lives lost or injuries / illnesses related to work;
Caravan for workers' lives
Digital local event ideas:
Hold a training, teach-in, or discussion group about worker injuries and illnesses and how preventable these are.
Organize a delegation to meet with elected officials to get their support for health and safety legislation.
Get a proclamation passed in the City, County or governmental agency.
Local unions and central labor councils can also pass resolutions and proclamations to recognize Workers' Memorial Week.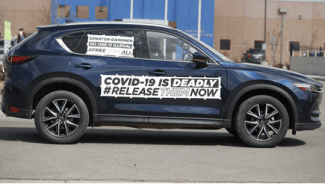 Write an op-ed or letter to the editor for your local paper, highlighting local workplace fatalities and prevention strategies (tips on writing them here).
Get faith leaders to include messaging about workplace safety as part of services and worship during Workers' Memorial Week.
Reach out to family members who lost loved ones; include their stories in public education programs
Hold a memorial breakfast, rally, or candlelight vigil to honor the dead and fight for the living
Publish and announce names of workers injured or killed on the job at public hearing (e.g. city council)
Connect to regional or national programs to participate and share activities and build momentum
Mobilize your members/networks to share their stories on social media