WORKERS' MEMORIAL WEEK EVENT RESOURCES: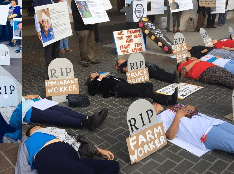 Every year National COSH hosts a webinar in late February or March to help those who want to take action during Workers' Memorial Week. We share ways to engage with our events and offer opportunities for event organizers to share their expertise with each other. Below is a list of resources beginning with a recording of our recent WMW webinars as well as examples of reports, guides for families of fallen workers, photos from events and sample resolutions from public officials.
WORKERS' MEMORIAL WEEK - MEDIA OUTREACH TOOLS
Whatever you choose to do to commemorate Workers Memorial Day, make sure to publicize it! Below are some templates for contacting the media. Additionally, National COSH has a social media toolkit for those wishing to mark the day via Facebook, Twitter, Instagram or whatever your favorite platform may be.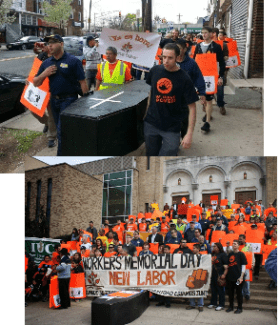 WORKERS' MEMORIAL WEEK – REPORTS
There is no one definitive place to find information about all the people who have been killed or injured on the job so if you want to invest the time to research the names and stories of local workers, people need and want to know! (See media outreach above) Below are some tips on writing a report as well as examples of reports from recent years.
WORKERS' MEMORIAL WEEK – RESOLUTIONS
You may choose to reach out to elected officials or your union to request recognition of Worker's Memorial Day to draw attention, raise awareness or add gravitas to your event. Most elected officials are happy to recognize fallen workers with a written resolution if given ample notice. Many will even attend or send a representative to speak at your event if given enough notice. Below are examples of past resolutions.