A shattered arm. A cover-up of safety violations. Workers dying, with minimal penalties for employers.
That's the kind of testimony rank-and-file workers and safety advocates brought to Washington DC last week. The occasion was a first-ever Workers' Voice Summit, convened by the U.S. Occupational Safety and Health Administration (OSHA), the federal agency responsible for workplace safety.
"We know they don't treat us right, it's not safe most of the time,"  said Eh Phaung, a forklift operator at a mattress factory near Albany, New York. She attended the Summit with National COSH affiliate NENYCOSH, and said she and her co-workers face hazards from long hours and repetitive carrying and heavy lifting.
National COSH and allies in the movement for workplace justice worked together prior to the Summit and advocated strongly for an inclusive, accessible event to genuinely represent and uplift the voices of workers who face dangerous, life-threatening hazards every day on the job. Collaborating with our COSH Network of 26 local health and safety groups, we reached out to engage workers whose voices are overlooked: Low-wage workers, temp workers, immigrants and workers of color.  
Our efforts succeeded in bringing diverse voices to the table – and workers had plenty to say.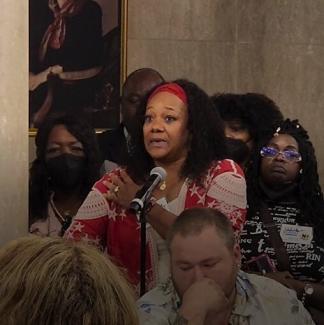 "My grandson works at the postal service in Jackson, sorting mail," said Rebecca Miles,  a worker leader from the Mississippi Workers' Center for Human Rights, a National COSH affiliate based in Greenville, Mississippi. "Last Wednesday, they didn't have enough employees at work, so they put him on the conveyor belt," said Miles, during an open mic session.
"His arm got caught there," said Miles, who had to pause to collect herself. "No safety guidelines, no training, they just placed him on the conveyor belt. Nineteen years old, he has broken every bone in his arm. I mean, when does this stop?  When does this stop? I don't want this to happen to anyone else's grandson."
"The company aligns itself with OSHA, and they know when OSHA's paying them a visit," said Isaura Martinez, an organizer from the Chicago Workers Collaborative. "They can clean up the evidence, so by the time the OSHA rep comes, it all looks good. But it's a lie."
"When a worker files a complaint, he gets let go or faces retaliation, and he ends up without a job," Martinez says. "Where is the justice?  Where is there workers' rights?  We want action, OSHA, not words."
"Too many construction workers are dropped off at the workplace with no safety information,' said Mayra Molina, a painter and worker leader from MassCOSH. "I work in construction and I see this all the time. We don't want to see this conversation just on paper, but we need action.
"A lot of times we're think we're mocked because we're strippers and sex workers and not taken seriously," said AM Davies, a leader with the California-based Strippers United. "Dirty bathrooms, broken staircases and harassment from customers are some of the problems faced by her and her co-workers", Davies said.
"One of our colleagues in Orange County reported several OSHA violations and none of them were taken care of," she explained. Instead of fixing an unsanitary bathroom used by dancers, "the employer sent different pictures where the customers use the bathroom, and OSHA wrote it off as being fixed. They have to go back and file more OSHA complaints, and now there are even more things wrong at the club."  Strippers United has been working closely with SoCalCOSH during their campaign to win safer working conditions and union representation at Star Garden in Los Angeles.
In addition to specific horror stories, workers and advocates at the Summit also raised important policy issues, including the demand for immigration reform, protections for meat and poultry workers, better coverage for domestic workers, and the urgent need for protection from extreme heat.
Workers also came armed with solutions.  "As a member of the MassCOSH worker center," said Milagros Barreto, "I am here presenting the five priorities COSH and other worker center networks have identified to ensure OSHA is accessible, protects the most vulnerable workers so we can work together for jobs with dignity and our voices are heard," she said.
Barreto presented OSHA officials with ideas for progress that were developed by COSH Network members and worker leaders in advance of the summit, including:  
Engagement of workers and advocates as collaborators with OSHA
Protection for workers from being silenced due to immigration status
Enabling workers to fully participate in workplace investigations and enforcement proceedings
Protections for temporary workers
Collaboration with state and federal agencies to maximize worker protections, on issues such as wage theft, safe working conditions during disaster clean-up and other issues.
Wrapping up the three-day session, Doug Parker, who heads OSHA as assistant secretary of labor for Occupational Safety and Health, said the Summit is "a beginning… for all of us to work together better."
The agency is in a rebuilding process after four years of neglect, Parker said. OSHA is now  hiring more staff, conducting more inspections and carrying out more enforcement actions. The agency is focused, he said, on bringing cases against the most "egregious" employers with "the most willful and repeat violations that often result in the tragic death of a worker."
As COSH Network members and worker justice advocates have argued for years, language justice is essential in creating effective safety strategies; to be fully protected, workers need access to information and training in a language they can understand. So we were glad to hear Parker announce  that OSHA is finally carrying out an idea that safety activists have suggested for years: a pocket card, available in English, Spanish, Chinese and Portuguese, that says:
"Is your employer putting your safety at risk? We're here to help you, regardless of your immigration status."
The card will be used by OSHA inspectors, investigators, and others who interact with workers, and will be available soon in additional languages. Further efforts are needed, safety activists say, to make sure workers' voices are heard – and understood – by employers and public officials.
"Workers have too little power, employers have too much," said Oscar Londono, co-executive director of We Count, a National COSH affiliate based in South Florida. "We need more worker engagement, more worker voices at the table with the Department of Labor."
"This was a good start," said National COSH co-executive director Marcy Goldstein-Gelb, who was part of the team of safety activists helping to plan and prepare for the first-ever Worker Voices Summit. "Now it's up to all of us to keep pushing and keep demanding that OSHA listen and respond to workers. When workers have a voice, we can prevent injuries and illnesses and save lives."